POISON ELVES: The "Wisp Saga" Continues!
Lusiphur and Jace are assigned a new mission by the Elvin High Council: protect the teenage mystic, Wisp, during his travels across the continent. However, the task is fraught with danger, as every evil creature in the realm wants the boy dead! Follow this continuing adventure into 2002! Please contact Cosmic Therapy at info@cosmictherapy.com for information on purchasing these issues.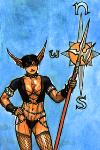 POISON ELVES POSTER MAP Available Soon!
Measuring 19" x 25", this full-color poster comes illustrated by 2001 Eisner Nominee, Mark Smylie (creator of ARTESIA). Charting the entire mythical continent of Amrahly'nn, this well-researched and meticulously detailed map promises to be a fan-favorite product among devoted PE readers! Printed on heavy bond paper.